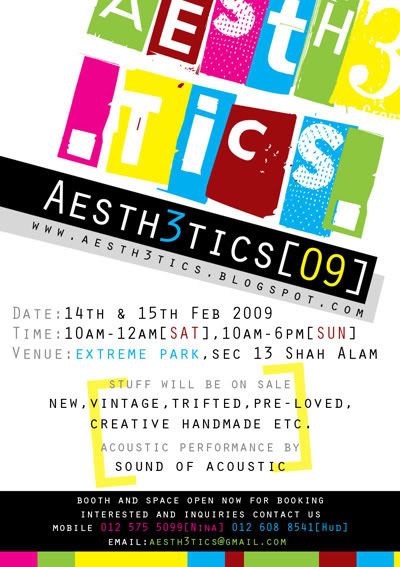 Hello all young entrepreneurs,
We are organizing an event this coming February. The details for the event are as follows :
Date : 14-15 February 2009
Time: 14 February 2009 : 10am- 12 midnight
15 February 2009 : 10am-6 pm
Venue: Extreme park, Sek13, Shah Alam
There are wall climbing, skate park , futsal arena, burger king, pizza hut and kfc at the venue of the event .There might be a skateboarding competition going on the same day.You don't have to worry to drag your boyfriends along because that wont get bored. There is so much to try and do.
There is also acoustic performance by Sound of Acoustic at the event. You wouldn't want to miss an acoustic performance on a valentine's day.
The rental for one booth is RM50 per day and we will provide one table and two chairs for each booth.
Together with this email ive attached the flyer for the event.
For more details and inquiries feel free to contact us:
Nina : 012-5755099
Email: aesth3tics@gmail.com
Url : http://aesth3tics.blogspot.com
Regards,
Aesth3tics group